Congratulations to all the 2017 Oceania DX Contest winners and thank you to everyone who participated, including those who made just a few QSOs.  You have all earned your certificates!
"Propagation wasn't too good from here but managed to work a few people – thanks for the fun and no logging programs for this blind ham so I hope my little file is ok. – VE7SDH"

Thanks Summer, it was fine! – OCDX Committee

The 2017 contest was tough going, especially on the CW weekend when the solar flux dropped below 70 and the Planetary A index peaked at 31. Lightning QRN from storms in the Pacific made it difficult to copy stations on the lower bands during the PHONE weekend.
"Absolutely awful conditions from VE7. Things can only get better … can't they?! – VE7JKZ"


We sure hope you're right  – OCDX Committee

Despite dismal conditions, the committee was delighted to receive a total of 1,303 logs, an increase of 9% compared to 2016 and a new record. Most of the increase is due to Indonesian stations but there was also a noticeable jump in the number of logs received from the Philippines. Indonesia has now overtaken Japan as the country submitting the most logs. The efforts of YB0NDT, the YB Land DX Club and other YB amateurs to promote the contest are clearly working!
"Started badly, big distortion on my SSB. Went from bad to worse. While trying to repair my SSB connector my soldering gun blew up with bits, smoke and sparks flying everywhere. Lost Saturday night.
On Sunday used Selley's Epoxy Fix to fix the SSB plug connections without soldering them! "If it's Selley's it Works" says their logo – and it did actually work :-)) I will fix it properly one day…….I then went on to make 155 Q's in pretty mediocre condx.
My thanks to the Contest Organisers and 73 to all from Borneo! – 9M6XRO "


John, sadly now SK & missed already – OCDX Committee

With poor HF conditions and storm QRN on LF, 40M was the most active band in 2017. The remaining activity was mainly on 20M and 15M with a similar number of QSOs being made on each of these bands. Some QSOs were made on 80M and 10M but these were generally limited to Oceania, Asian and North American stations, along with the odd QSO to Eastern Europe. QSOs on 160M were even more sparse and almost entirely confined to stations within Oceania, except for a handful of intercontinental QSOs during the CW weekend. The only QSO with Europe on 160M was between R4RE and VK2GR.
"Very limited space for antennas on retirement village balcony – VK2EL"

Keep it up, Stan! – OCDX Committee
A remarkable 27 new continent records were set in 2017 including 5 QRP records for Oceania despite the dearth of sunspots:
A further 140 new country records were also set, raising the bar for 2018's entrants.
Congratulations to the OCDX 2017 plaque and trophy winners: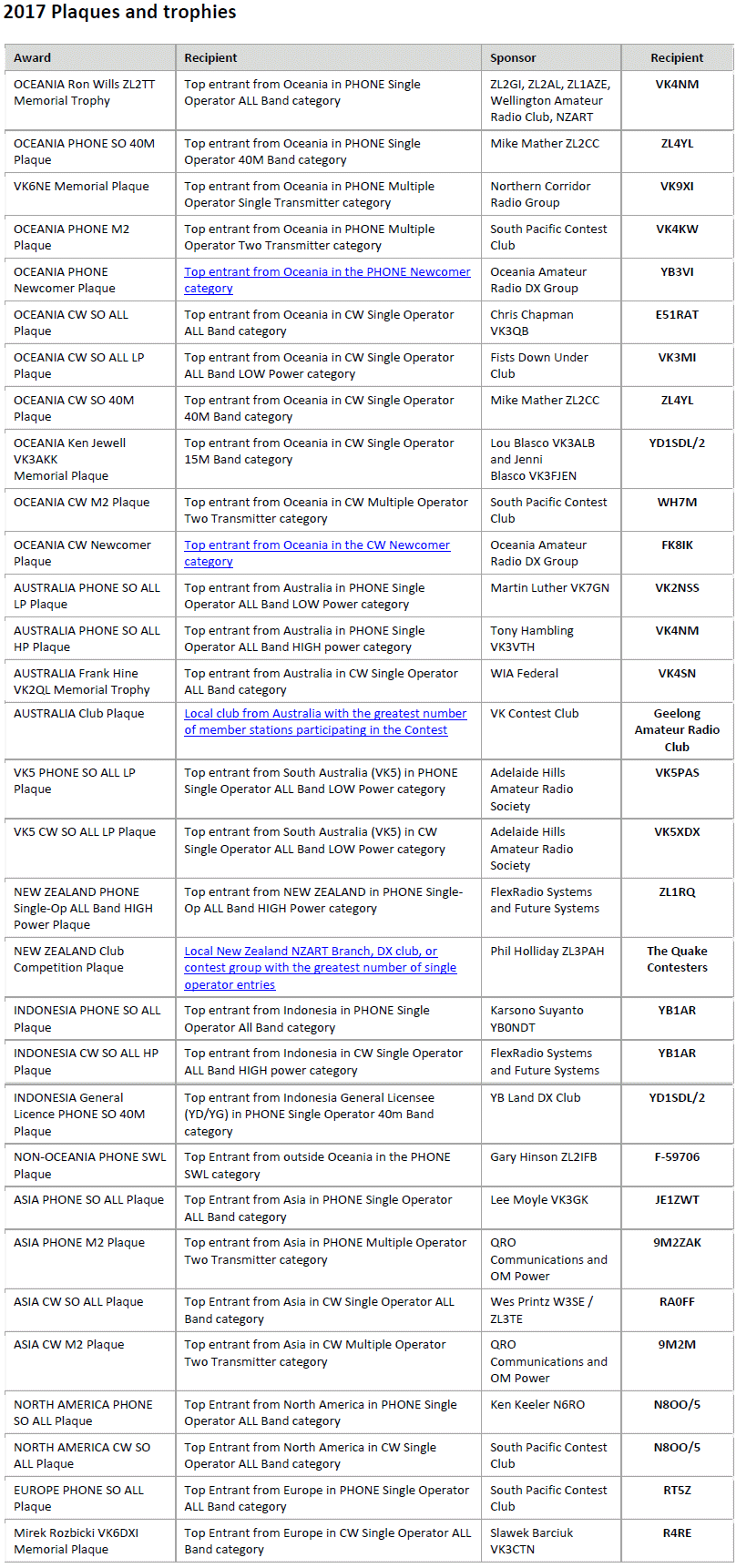 As well as the more common Oceania entities (such as KH6, VK, YB and ZL) the 2017 contest saw activity from many of the rarer Oceania entities such as 9M6, A31, DU, E51, FK, T32, T88, V73, V85 and VK9. This activity from rarer entities is important for making the contest interesting and attractive to participants, especially for DX stations. In particular we are grateful to the individuals and teams who traveled to activate rare ones in the 2017 contest.
"I opted for 40M single band versus all bands to get a few hours sleep in between. The CW part was more fun than SSB and I could break my dad's 40M HP record with hopefully enough margin to make it through the log checking. – ZL4YL"


Well done on beating the OM's record, Xenia! – OCDX Committee
Unfortunately, a disappointing number of entrants were penalized for breaking the contest rules. Identified infractions included:
Claiming an excessive number of dubious not-in-log QSOs i.e. QSOs which do not appear in the logs submitted by the other stations (rule 17 violation);

Claiming an excessive number of unique QSOs i.e. QSOs with stations that did not appear in any other logs (rule 17 violation);

Self-spotting activity (violation of rules 6 and 17);

Collaboration between entrants – a number of SWLs submitted the same or similar logs (rule 17 violation).
Violators' logs have either been withdrawn or were reclassified as check logs. In fairness to all entrants, the contest committee took action reluctantly after carefully considering the evidence and seeking explanations from those concerned.  Looking forward, we sincerely hope all participants in this year's event will take the trouble to read and comply with the 2018 rules.
See you all in 2018!
73 de Oceania DX Contest Committee
RESULTS DOWNLOAD
| | |
| --- | --- |
| 2017 Phone Winners and Records | ocdx17-ph-scores.pdf |
| 2017 Phone Soapbox | ocdx17-ph-station-info-soapbox.pdf |
| 2017 CW Winners and Records | ocdx17-cw-scores.pdf |
| 2017 CW Soapbox | ocdx17-cw-station-info-soapbox.pdf |
| 2017 Plaque & Trophy Winners | (Click Here) |
Entry category abbreviations: ALL = all bands, CK = check log, HP = high power (total output power greater than 100 Watts), LP = low power (total output power no more than 100 Watts), QRP = reduced power (total output power no more than 5W), M1 = multiple operators and single transmitter, M2 = multiple operators and two transmitters, MS = multi-single, MM = multiple operators and multiple transmitters, SO = single operator, and SWL = shortwave listener. Note: the M1 and M2 categories replaced the MS category in 2010, the LP and HP categories were introduced in 2010, and the QRP categories were introduced in 2014